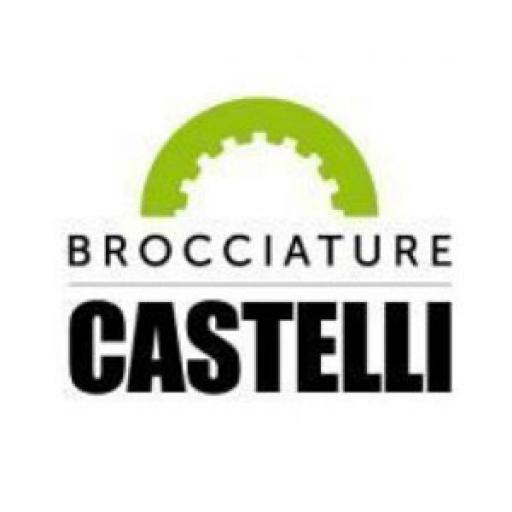 Profilo aziendale
Brocciature Castelli
L'azienda nasce nel 1950 come "TORNERIA REVOLVER" di Castelli Giacomo. La prima brocciatrice viene costruita dal Sig. Castelli in collaborazione con l'Ing. Varinelli alla fine degli anni 50. Successivamente la ragione sociale dell'azienda si trasformerà in "Torneria Revolver e Brocciatura". Negli anni successivi la società si specializza nelle lavorazioni di Brocciatura e Stozzatura per conto terzi.
Nasce così nel 1974 la "Brocciature Castelli". Brocciature Castelli si occupa di accoppiamenti meccanici da oltre trent'tanni. Tra i suoi clienti vanta diverse società leader nel settore della costruzione di riduttori, ingranaggi e valvole.
CERTIFICAZIONI
Brocciature Castelli possiede una Certificazione 9001 Bureau Veritas
9001 Bureau Veritas
PRODOTTI, SERVIZI E MACCHINARI
Brocciature Castelli è in costante sviluppo per assicurare una sempre migliore qualità, a tal scopo dispone di una macchina per controllo tridimensionale ad autoapprendimento per controlli più complessi. A vostra disposizione un reparto specifico per la costruzione di brocce e per la revisione di macchine utensili. Si eseguono brocciature di cave per chiavetta unificata, in millimetri e in pollici per una corsa massima di 1500mm, cave tangenziali di ogni misura, profili scanalati a fianchi paralleli e ad evolvente in un' unica passata con macchina brocciature Varinelli 40T corsa 2000.
Si eseguono inoltre:
Campionature
Brocciature di piccoli, medie e grandi serie
Revisioni di macchine utensili
Brocciature Castelli esegue lavori di stozzatura CNC di medie e grosse dimensioni con corsa massima di 850mm ingombro massimo sottotesta 1000mm. Dentature interne ed esterne a stozzare secondo nome DIN/SAE/NFE . FOEMAG ELETTROMECCANICA corsa 1500 con tavola a dividere foro 900 diametro esterno 2000. Brocciature Castelli ha allestito inoltre un reparto specifico per la costruzione di brocce di piccole e medie dimensioni al fine di garantire ai nostri clienti consegne in tempi rapidi. Si profilano brocce semplici tipo quadri, esagoni e profili più complessi.

Immagini Brocciature Castelli Srl
Alcuni esempi delle nostre lavorazioni e dei nostri strumenti di lavoro.
Information Request
Direct contact Brocciature Castelli Srl
Catalogo

Listino prezzi

Lista rivenditori

Contatta agente
Fill out the form (Fields marked with * are required)
I declare that I have read and give my consent to the processing of data for the purposes from the privacy policy.
Business networking and industry contacts
Direct connection service to relevant companies in the industry. We offer an enhancement of the business model through new contacts in the sector.
Supplier scouting
Searching for new partners based on the client's needs.
Dedicated web portal
An exclusive showcase of products in the Oil & Gas world. A comprehensive web catalog of companies belonging to this industry, divided by category.
Magazine as a selection and visibility tool
A printed magazine as a tool for searching for new partners. A tangible experience that brings the concept of the virtual fair to life.
Digital Marketing and Communication
Sector-specific communication and web marketing service in the Oil & Gas industry designed to comprehensively cover the brand identity of each client. From logo design to image strategies and social media follow-up.
EVENTS
Thanks to the excellent results achieved, we have decided to organize the first Expo Valve events. Only our clients will have the exclusive opportunity to participate in our events. We will have industry leaders, journalists, and public figures as guests and speakers. We have planned discussions on current and interesting topics for all our partners. Through these networking opportunities, it will also be possible to create new contacts and potential collaborations among Expo Valve exhibitors.